How To Build Your Own Airpot Station
Display is a snap with our new Build-Your-Own Airpot Display System! Follow the instructions below to create your custom set-up.
1. Airpot Holders & Drip Trays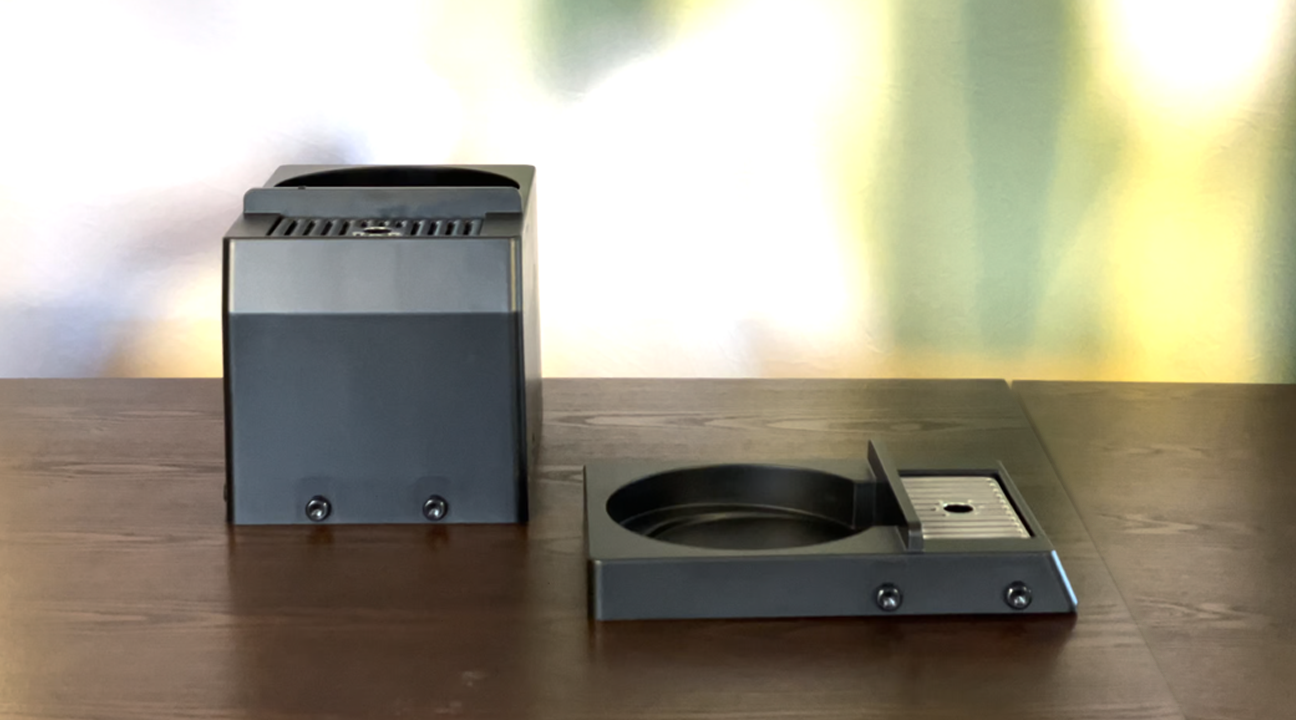 No airpot display comes without airpots, so start there. You'll need to think about how many airpots you will need to display and how much room you have.
If counter space is no issue, or you have just 1-3 airpots, choose our low airpot module to keep all of the airpots on one level. If you need to make a more compact display, consider creating a two-tier design by combining the high and low airpot modules. When creating a tiered display, it is best to have an even number of airpots.
2. Condiment Organizers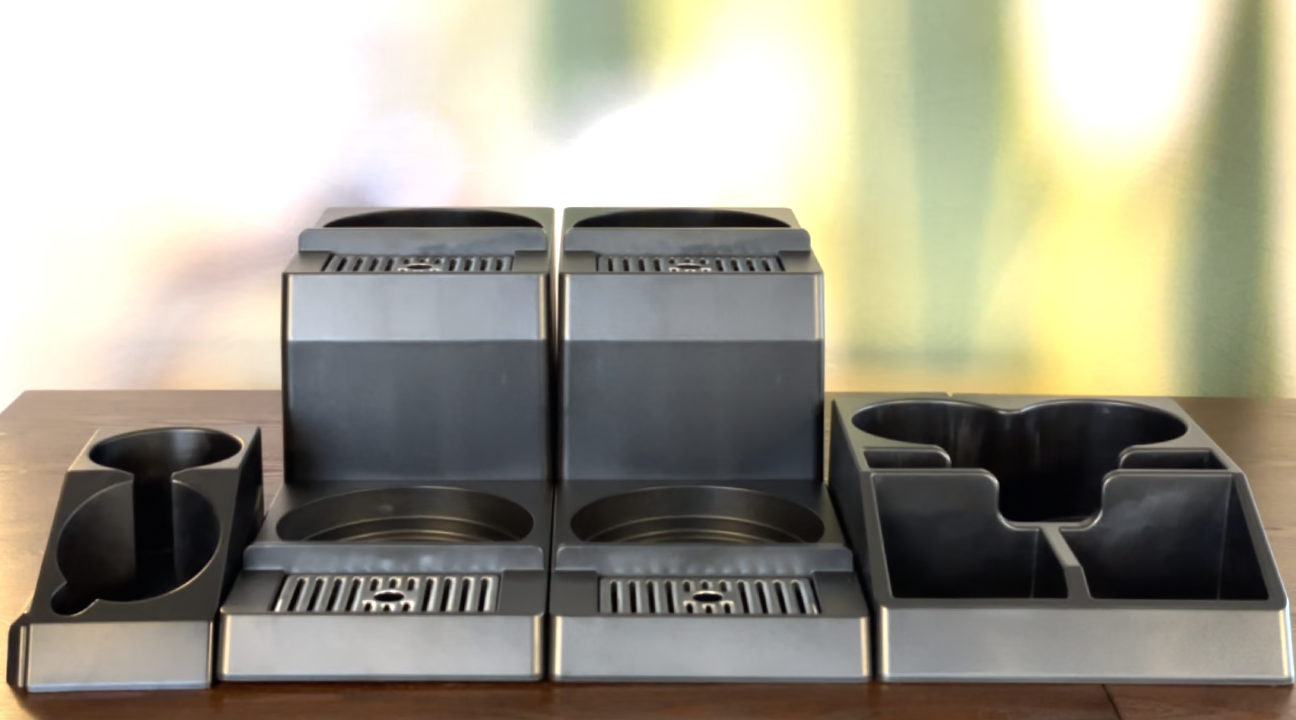 Available in 2-compartment or 5-compartment styles to fit your condiment needs, and with the same easy interlocking system as the drip tray modules. Just snap and fill! Great for lids, cups, creamers, sugars, straws, and stir sticks.
3. Drip Tray Accessory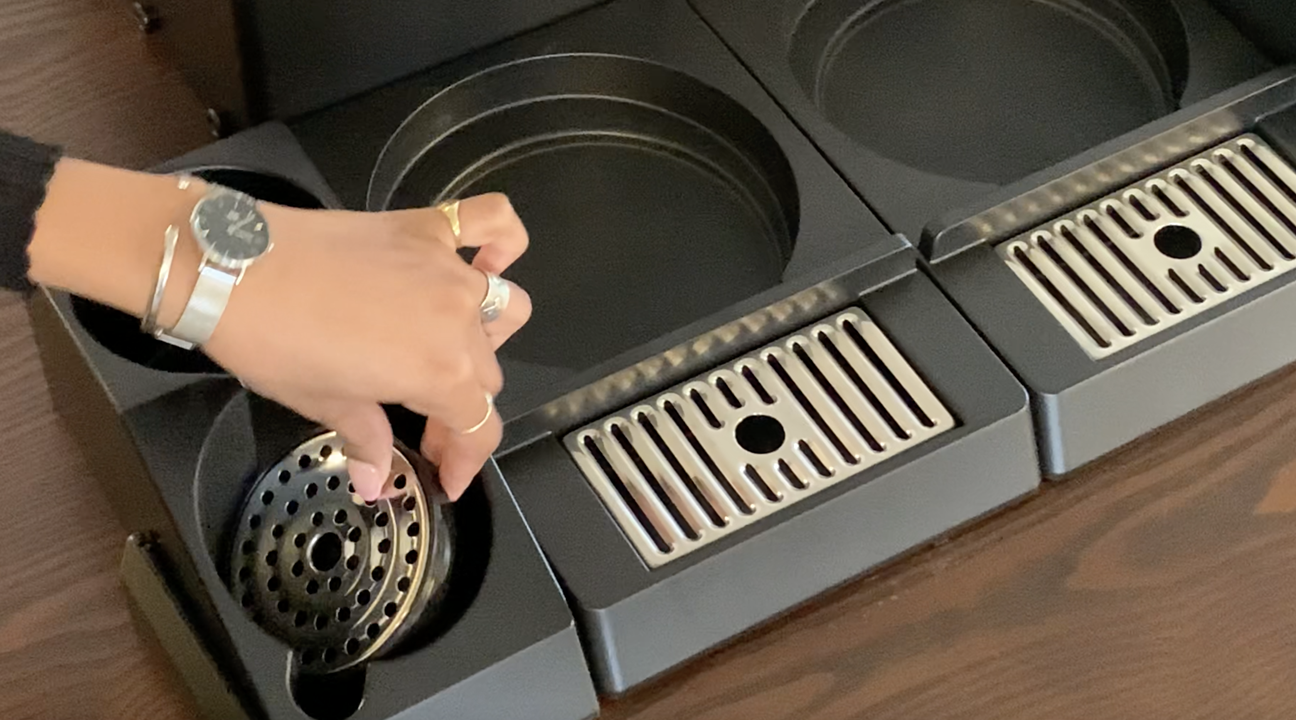 There's nothing worse than seeing a bunch of crumbs and spills in the same area that you're serving your fresh cup of coffee from.
To disquise these spills, drop this handy little drip tray accessory into the 2-compartment caddy along with a creamer or hand sanitizer. Anything that spills will fall through grates, concealing any gunk, and then can be later pulled out and thrown in the dishwasher for an easy cleanup.
4. Finishing End Caps

Unique to our modular display system is the ability to cap off the ends to create a finished and polished look. Many other systems with similar interlocking assemblies leave the outer pegs and ports exposed, leaving the display vulnerable to snags and appearing unfinished.
Our finishing caps come in a set, one for each side of the display, and can be added wherever there is an exposed connection.
5. Coffee Airpots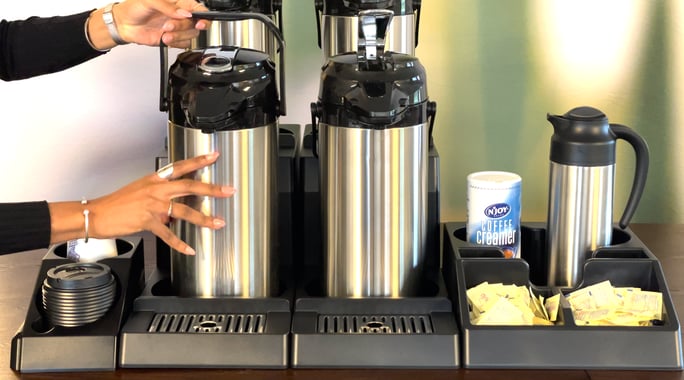 All set up? Then it's time to add the coffee. Our airpot modules fit all Service Ideas airpots, and many other popular models. Check out our Color Me SVAC and Signa-Air lines if you're looking for a stainless-lined airpot with a heat retention of 4-6 hours, or our EcoAir® line if you're looking for a glass-lined airpot with a longer heat retention of 6-8 hours.
6. Creamers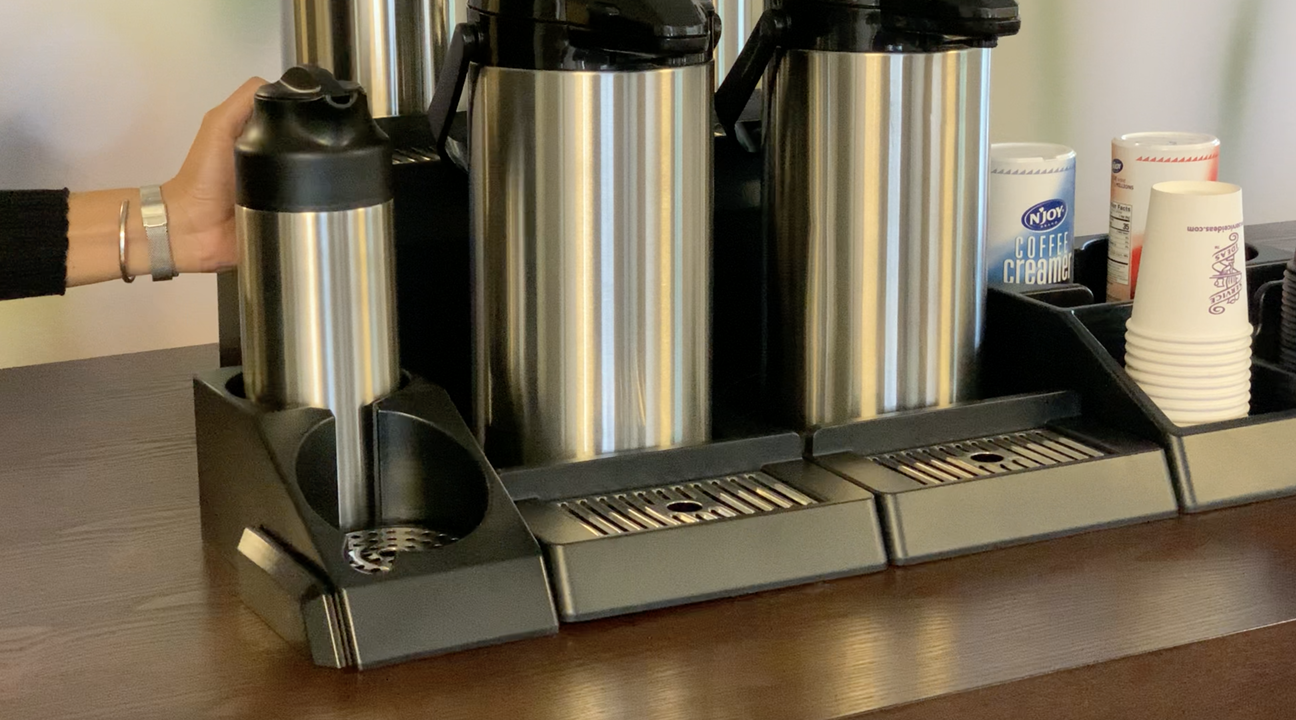 Our 2-comparment condiment caddy conviniently fits our popular SteelVac™ 1-liter vacuum inulated creamer, ideal for serving dairy and non-dairy creamers. Pair it the the drip tray accessory to keep your creamer station neat and clean.
7. Cups, Lids, Straws, and Sugars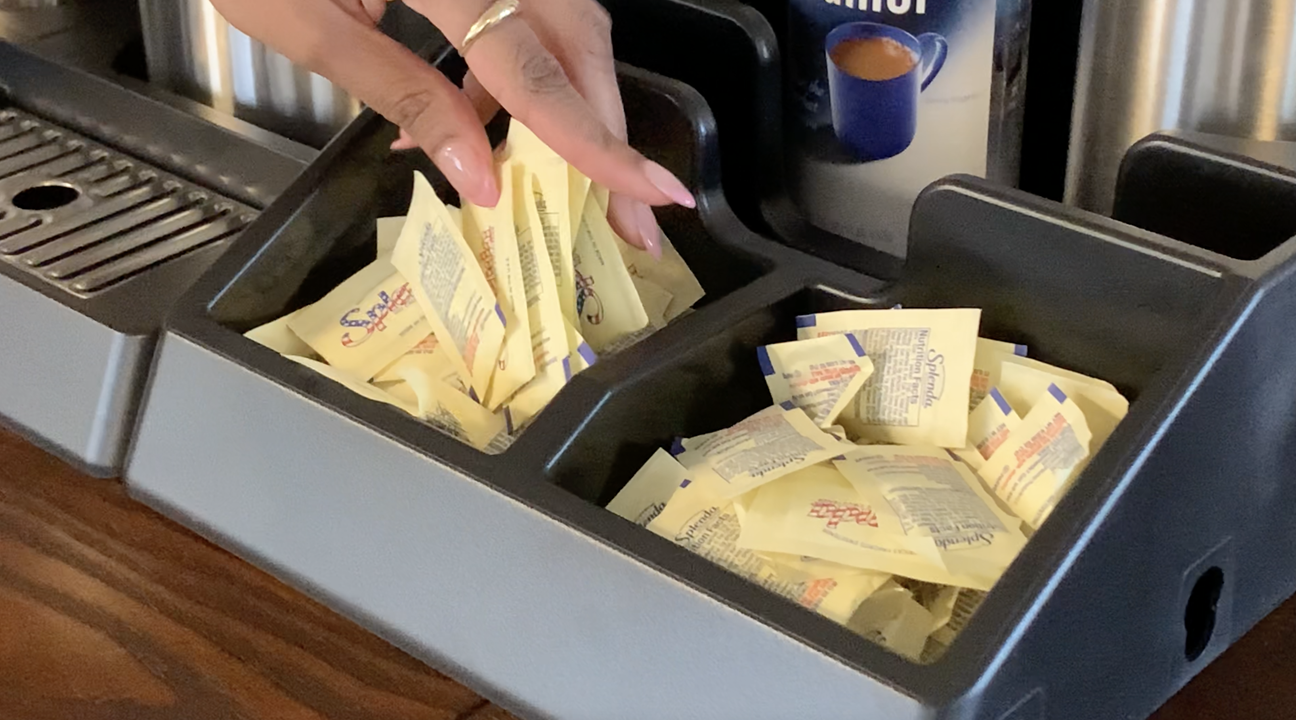 Sugars, cups, and lids, oh my! Our 5-compartment condiment holder has space for all the necessities. Cups and lids in the back, sugars packets in the front, and a narrow middle compartment designed for straws or stir sticks.
8. Enjoy!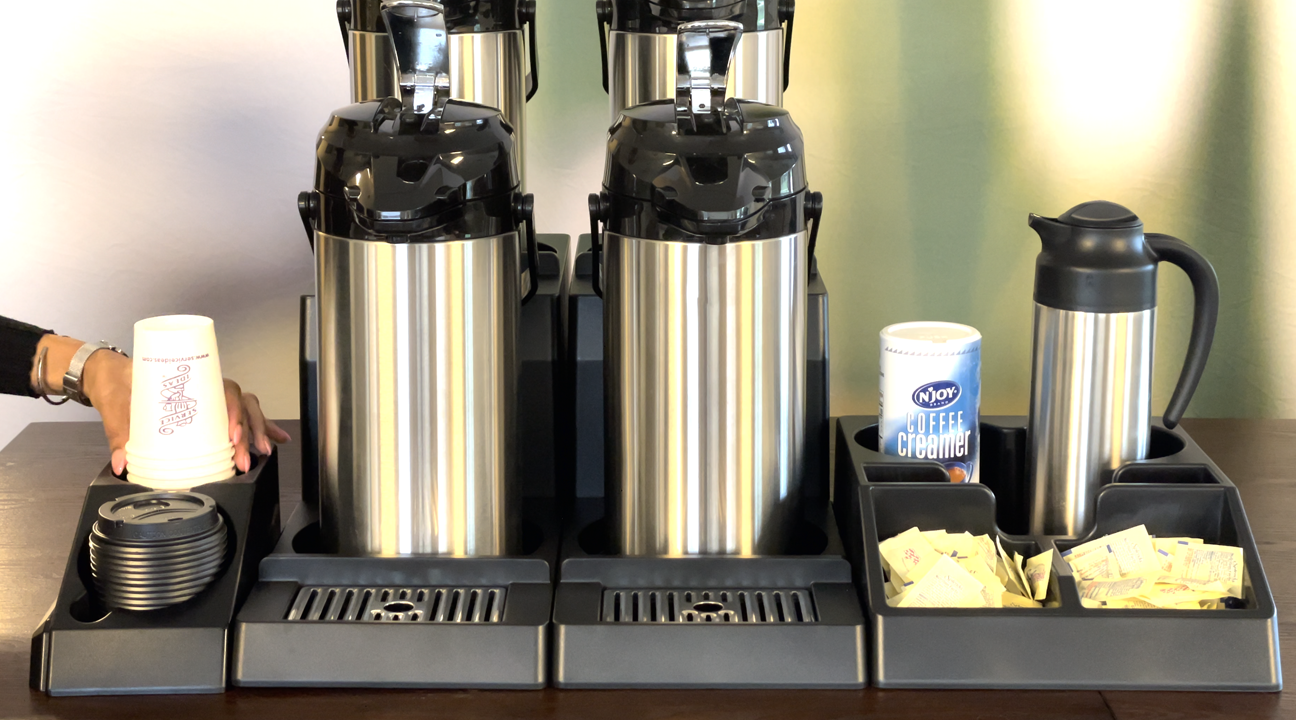 The perfect coffee station—complete! Now all that's left to do is pour a hot cup and enjoy.
Watch the full video showing how easy it is to set up the airpot displayed above here.
For more information about the products shown in this blog and video, check out the product brochure below.