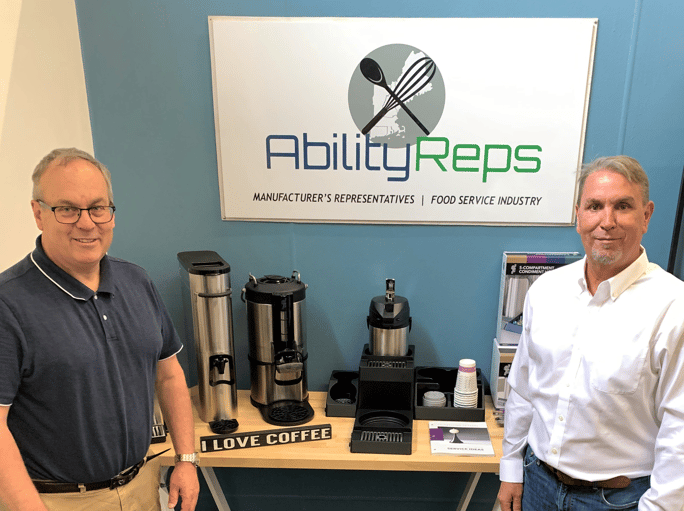 Owen Freeman (left) with colleague Doug DeLuca (right)
---
OWEN FREEMAN

President
Ability Reps
Territory: New England (Connecticut, Maine, Massachusetts, New Hampshire, Rhode Island, Vermont)

ABILITY REPS

Service Ideas Sales Recognitions:
Acheivement in Sales, 2019
Acheivement in Sales, 2016
Significant Contributor, 2016
Acheivement in Sales, 2015
We spoke with the president of Ability Reps, Owen Freeman, to get an inside look at his experience as a foodservice and coffee manufacturers' representative.
Q: How did you get your start in the foodservice industry?
A:
After graduating from Bates College, I met a Swiss gentleman who was importing Swiss-built espresso machines and round 55mm coffee pods in 1985. I took the New England territory and started my own company called Espresso Buono which purchased and loaned free espresso machines to hotels and restaurants and provided service as long as they purchased the espresso pods from me. We sold espresso by the case of pods so the restaurants had a fixed cost basis. We had 400 customers within a few years including all the major hotels and pioneered the increased adoption of espresso to foodservice, not traditionally known for it. I found that I liked working as an entrepreneur and business owner.
Q: Can you give me a brief history of Ability Reps as well as your history with the company and as a foodservice and coffee representative?
A: I have worked as a manufacturer's representative since 1988 having joined Pardee Enterprises in sales with the aim of becoming a partner. Our lines were beverage equipment related. We merged with another rep group owned by Keith Enscoe who had beverage and restaurant equipment lines and created Pardee, Enscoe & Freeman in 1991. This is where I met Keith Enscoe and we worked together there for about 10 years - and still do to this day! (FYI: Keith is now the Business Development Director at Service Ideas!)
We became Pardee, Freeman, Inc in 2000 when Keith moved out of the area and I took over the company as President in 2019 when my business partner Harry Pardee retired and I changed the name to Ability Reps.
We recently built out a full test kitchen/office facility in Gloucester MA where we have restaurant owners and chefs, consultants, and coffee roasters in to learn about new equipment and trends.


Q: How many people work at Ability Reps?
A: We have three people on the staff currently. Doug DeLuca as our VP of Business Development, Catherine Moore as inside and territory sales, and myself as President.
| | | |
| --- | --- | --- |
| Owen Freeman, President | Doug DeLuca, VP of Business Development | Catherine Moore, Inside and Territory Sales |
Q: What do you like most about your job?
A: I like the fast pace nature of the business and each day is certainly different. It is rewarding to work for yourself and build a solid reputation in the industry for good product knowledge, a high level of customer service, and fair dealings. I like that we get to sell to our customers for years in a row, not just once and done.
Q: What does your typical day look like?
A: Our hours are 7am to 5pm. We balance our time between working toward an overall sales objective like focusing on a certain product introduction or customer and reacting to the unknown – emails, phone calls, requests for quotes and information.
In relationship selling, it is important to be in front of our customers consistently so there is a lot of day travel and a few overnights each month covering our territory. Especially now that Covid restrictions are lifting, we are out almost constantly. We remind ourselves to pick up the phone and call customers and not just rely on email. Of course, these days, so much of selling occurs through email but we can't lose the in-person touch.
I often remind myself of a quote from a favorite "old-school" sales manager who once said:
"Plan your work, Work your Plan"
That always stuck with me.


Q: What does your typical coffee customer look like?
A: New England has always had a vibrant coffee industry even though it has consolidated over the years like many industries.
We have several large regional and national coffee roasters who roast, loan equipment with service and do private label toll roasting for smaller wholesalers. Their customers are down the street restaurants, hotels, chains, and some C-stores.
There are a few national foodservice and convenience store industry broadliners with beverage departments who also loan coffee equipment with service.
We have Espresso machine distributors and Office Coffee Services that we are calling on.
There are many smaller roasters who typically sell to boutique cafes & smaller restaurants.


Q: What types of products do you sell the most of?
A: Because we only specialize on the coffee side industry for Service Ideas, our biggest sellers are airpots, volume thermal containers and tea urns. We promote the creamer carafes, brew n' pour carafes, cold brew systems and airpot rack systems.


Q: What foodservice sales territory do you cover?
A: We handle the six states of New England.


Q: What are your all-time favorite Service Ideas products?
A: I'd say it has to be the Eco-Air airpot, ECAL22S. It made Service Ideas famous in the coffee industry around here.


Q: What is your favorite new 2021 Service Ideas product?
A: There are a lot of great products and designs at Service Ideas.
But I am partial to the Clear Tea Urn, ITSLC35GBLINF, because it merchandises tea so beautifully. It is nice to be able to see into the tea, and see its color instead of behind stainless. People buy with their eyes!
---
Website: abilityreps.com
Phone: (978) 281-2700
For General Inquiries:
sales@abilityreps.com