Service Ideas recently announced two new products that allow you to label your contents. Available in a variety of flavor options for buffet & coffee service.
The new ID Tents provide a stylish way to have a consistent look in your buffet while elegantly displaying what is being served.
Durable - Constructed from 18/8 stainless steel lasting longer than the plastic options currently on the market
Easy to Read - Brushed finish makes the tents easy to read in any lighting
Permanent - Laser cut is permanent, no rubbing off over time
Customizable - Can customize with your verbiage and font style. Stocked in Modest font, but also available in Script or Diner fonts.
Stackable - ID Tents are stackable and easy to store
Easy to Clean - Dishwasher safe
ID Tents, Dimension: 3 x 1.5 x 1.5 , Finish: Brushed
Catch their eye with a colorful ID Sleeve, available in 5 distinct colors.
• Options - ID Sleeves are pad printed in black 2% Milk, Skim Milk, 1% Milk, Half & Half & Whole Milk
• Sturdy & Stretchy Material - Made from silicon rubber, the sleeves are stretchy and easily fits most servers with 3.5"-4" diameter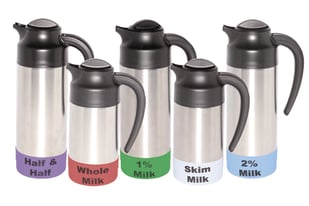 • Reusable - ID Sleeves won't lose shape and can be cleaned and re-used on many different servers
• Easy to Clean - Dishwasher safe
• What Products Work With It? - Popular products that work with the ID Sleeves are S2SN Steelvac™ Stainless Carafes, Portion Control Servers and the Stanley® ErgoServ® Creamer
ID Sleeves, Dimension: 3.5 x 1.5, Fits: 3.5 - 4 Diameter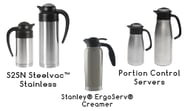 As always, we welcome your comments and feedback. Please "Like" or "Share" our post using one of the convenient share buttons below, or rate/comment on our post to let us know how we're doing. We appreciate the reviews and your suggestions for future blog posts.
ID Sleeves Work With These Products!