Growlers have been used in the beer industry to transport beer from the local pub since the late 1800s. What began as a concept of a simple covered galvanized pail has now evolved into glass jugs and vacuum insulated stainless steel vessels.
The Thermo Craft® Growler from Service Ideas is NSF listed for increased safety in food service applications. The offset neck creates a flat front to reduce airlocks while pouring. This along with the other features of our patented design makes it great for more than just beer. Use it for soups, sauces, pancake batter and more.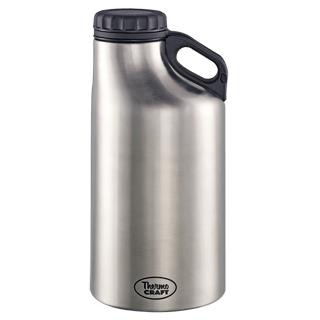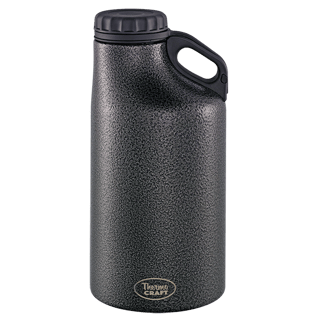 Savory Hot Sauces
During catered events such as weddings and industry parties, chefs will often prepare large batches of sauces. They keep them at optimal serving temperature with the use of stainless steel pans and steam generated warmers. With hot sauces, like a béarnaise, this can get messy and cumbersome after repeated ladling from a table warmer or taking them in and out of a side warmer with hot pads. A vacuum insulated growler allows you to hold the temperature and serve your sauces with one dual-purpose vessel.
Dessert Sauces
A dessert sauce is an essential element in many kitchens. These, too, are often prepared ahead of time and poured onto desserts during plating. Having the finishing sauce nearby in a vacuum insulated growler helps keep the back of the house orderly and efficient during service. Our Thermo Craft Growler keeps contents cold for up to 12 hours—plenty of time to get through the evening dinner rush.
Hot Coffee
Vacuum insulated vessels are commonly used to keep coffee piping hot. A growler is an excellent choice if you need to transport your hot beverage from one place to another. The tethered lid secures tightly so hot liquid won't spill while traveling to its destination. It's also a perfect carafe for outdoor recreation and camping trips.
And of Course, Beer
Unlike a traditional glass beer growler, a stainless steel insulated growler will keep your beer cold for 12 hours without the need for refrigeration. Great for taking 64 ounces of your favorite new craft beer from the brewery to enjoy with friends in the comfort of your own home. The Thermo Craft Growler also makes an excellent gift for the craft beer enthusiast in your life.
Available now from Service Ideas in a traditional brushed finished or a cool new hammered finish.
Tethered lid features rigid grips for secure tightening
Offset neck creates a flat front to reduce airlocks while pouring
Stainless vacuum keeps contents cold for over 12 hours or hot for 4–6 hours
NSF listed for food service applications