A new year brings about new resolutions, goals, and fresh beginnings, but most importantly, it also brings new Service Ideas products! This year we not only brought in new innovations, such as our Double Wall Beverage Dispenser, but also added to our Metallic and Natural Elements Collections, and completely redesigned our Twist 'N' Serv™ Carafe so that it fulfills your service needs better. Take a look at the exciting products released for 2020.
Let's get started...

Double Wall Beverage Dispenser
There's nothing else on the market that can quite compete with our Double Wall Beverage Dispenser. This dispenser was built with two containers so that your beverage no longer sweats on the outside, completely eliminating that messy puddle on the counter.
Features:
NSF listed for commercial foodservice applications
Constructed of BPA-free Tritan™ plastic
New stainless steel spigot included
Double wall construction eliminates condensation

Signa-Air White & Black Coated Stainless-lined Airpots
Inspired from our Signa-Air Stainless-lined Chrome Airpot, we added a white and black rubberized coating exterior for a more enhanced coffee presentation.
Features:
Stainless lined for 4–6 hour heat retention
5-year warranty
Chrome lid

Twist 'N' Serv™ Carafes
More features, yet still completely affordable. Our Twist 'N' Serv™ Carafe's have been completely redesigned so that they can service your staff and customers better.
Features:
NSF certification
Stickability for drainage and storage
Dishwasher safe
BPA-free construction
Three capacities
Push-button lid

981 and 982 Series Push-button Carafes
We saw the demand for push-button carafes increase, so last year we added a push-button line to our 981 and 982 Series Carafes. This year, we added two new sizes to the 981 Series, and one new size to the 982 Series. The push-button allows for a controlled pour, eliminating unnecessary spills, while the stainless liner keeps contents hot for 4–6 hours.
Stainless exterior and interior
Push-button lid
4–6 hour heat retention
5-year warranty

Tea Time Round Teapots
Coming in hot with a new elegant stainless teapot! Our Tea Time Round Teapots are perfect for after dinner dessert and coffee or tea! Works prefect with our polished Cream and Sugar Set for a formal display.
Features:
Polished stainless steel
Two capacities

Small Rectangular Non-Slip Tray
Our Small Rectangular Tray is great for serving craft cocktails or coffee! The small and slim shape makes it convenient for transportation and storage.
Features:
Removable rubber insert
Dishwasher safe insert
18/8 stainless steel construction
Stackable

Tabletop Signs
Identify your contents and offer a nice presentation with our new Tabletop Signs! Constructed from stainless steel and available in eight different varieties: coffee, cream, decaf, milk, reserved, skim, tea, and water.
Features:
Stainless steel construction
Enhanced presentation

Metallic Elements Collection
Back in June 2019, we launched our Metallic Elements Collection. The collection is made up of three unique finishes: vintage gold, rose gold, and dark tungsten. Starting with our Cold Beverage Dispensers, Slim Water Pitchers, and Round Non-Slip Insert Trays, we continued to see the demand grow for these finishes, and added three new products for 2020, including our Color Me S-VAC Airpots, Altus Carafes, and Personal Party Tubs. Take a deeper look at all of these products here.

Natural Elements Collection
Our Natural Elements Collection started a few years back with our 981 Series Servers and our Cold Beverage Dispensers. This year we enhanced our beverage dispensers to now include a stainless steel spigot for a more enhanced presentation. Along with this, our popular round non-slip insert trays are also available in three natural pattens: light wood, dark wood, and white marble. Learn more about the collection here.
This is only the beginning! We are so excited to share the launch of our 2020 products with you, and look forward to your feedback. Happy New Year!
---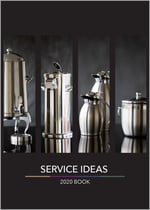 Download our 2020 catalog to see all of our products and learn more about these new additions.