The term "BPA-free plastic" is used all over nowadays, and as great as it sounds, do you actually really know what it means? We have a variety of products that are constructed with BPA-free plastic because we believe it is safer and healthier for people and the environment. We called out a few of our favorite BPA-free products below.
But first, what does BPA stand for?
BPA stands for bisphenol A, which is a chemical used in the making of plastics. Research has shown that BPA may be safe at low levels, but can also be a cause for certain health effects. It's extremely important for food and beverage containers to be constructed with BPA-free plastic due to the risk of the chemicals leaching during heavy use or high heat into the contents that you are consuming.
Here are a few Service Ideas products that are constructed with BPA-Free plastic...
1. Large Cold Beverage Dispensers
All of our plastic containers on our Cold Beverage Dispensers are constructed with BPA-free plastic. Most of our newer dispensers are even constructed with BPA-free Tritian™ plastic, which is a tougher plastic that is clear, durable, and safe. Some of our favorite dispensers are below:
2. Water Pitchers
Most of our Clear Water Pitchers are made with BPA-free plastic. Not only is the construction material important to us, but we have been producing more water pitchers with infuser tubes for flavored water (see recipes here). These are some of our best sellers:
3. Classic Carafes
Several of our Classic Carafes are constructed with BPA-free ABS plastic. Coffee is an essential part of any meal, and we always want it to be tasting fresh. Here are some popular carafes to choose from:
This is only a small selection of our BPA-free products. Many of our other products are also constructed with BPA-free plastic, including our Cold Brew Basket and Syrup Dispensers. Look for our

icon in the product details. However, if you are still on edge about using BPA-free plastic or plastic products in general, we have a great selection of stainless servers and dispensers as well. We are continually exploring new construction materials to ensure we are providing the safest products for you, your guests, and the environment.
---
Looking for a similar post?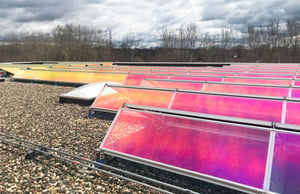 See how Service Ideas uses Solar Panels to produce energy and reduce their carbon footprint here!