Imagine this: A guest walks in from a long flight and the first thing they see is a cluttered coffee bar, the cream is gone, and nothing seems organized... what is the likelihood of them returning? The foodservice and beverage equipment you use in your hotel is extremely important if you are hoping to impress guests. Setting up a hydration station and coffee bar in the front lobby is almost essential nowadays. Here are six products to help you stand out from your competitors and keep customers coming back for more.
Regal Flame Free™ Thermo-Urn™
Our Thermo-Urns™ have been around since 2010, and are completely flame free, saving you potentially hundreds of dollars on cans of fuel. In 2019, the urn legs were completely redesigned. The legs now have a regal design that glams up the overall appearance, and weigh 70% less than before, making the urn a little easier to transport. The urns are available in brushed, polished, or powder coated finishes.
Hydro Dipped Cold Beverage Dispenser
Don't settle for stainless! Our Hydro-Dipped Cold Beverage Dispensers are available in multiple patterns, and help make a simple hydration bar stand out! This dispenser is self-storing when not in use and includes an infuser and ice tube. Pairs great with our Hydro-Dipped 981 Servers.
Modular Condiment Station and Airpot Drip Tray
The Modular Condiment Station helps make any coffee bar look neat and organized. Made with five condiment compartments for sugars, cream, and stir sticks, this Station directly attaches to our Airpot Drip Trays making a complete and organized coffee station. These products work great with our Eco-Air® Airpots and our Steelvac™ Creamers.
Personal Party Tub
A new 2019 product, the Personal Party Tub is perfect for sharing cold drinks around a small table. Only 6" high, this tub is small enough to fit on a dining table, and still fit a six-pack of beer or soda. Who says you can't give your guests a personal party or a party for two?
Stainless Ice Bucket
The Stainless Steel Ice Bucket is a great choice for room service. With a lightweight and brushed stainless finish, this ice bucket gives a classy appearance to the room. Bucket includes tongs and lid.
MOD18 Tabletop Collection
It can sometimes be hard to find classy small baskets, condiment holders, or other tabletop accessories that give a cohesive appearance. However, with our Mod 18 Tabletop Collection you are able to mix and match pieces, and give a stunning presentation. Great for room service, table settings, or buffet accessories.

Now imagine this: A guest walks in from a long flight and the first thing they see is an organized coffee bar with clean and neat equipment, their coffee stays hot and they are ready to check in... what is the likelihood of them returning? Upgrade your food and beverage service equipment today and make a lasting impression on your guests!
---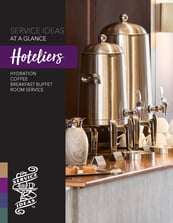 Download our exclusive hospitality product guide if you're a hotelier looking to elevate your hotel beverage service.