Busy coffee shops can go through as many as six gallons of dairy products an hour—and just at the condiment bar alone! There's no question that coffee drinkers love to add milk to their morning pick-me-up. But what if the carafes you're using to serve your cream are putting your customers at risk? Below are some ways you can avoid bacteria build-up and keep your creamers smelling fresh, not like sour milk.
1. Make Sure It's NSF Listed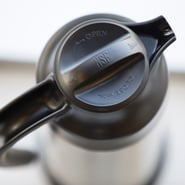 This is a must-have feature for any carafe used for dairy products. NSF standards serve as the benchmarks by which all commercial food-service equipment products are measured. In the case of beverage carafes, NSF simply means that the lid of the carafe, and anywhere the creamer comes in direct contact with the beverage before entering your cup, has the ability to be thoroughly cleaned after use. Look for the NSF listed seal of approval

next to our product listings on our website.
Recommended NSF listed carafes:
2. Choose Vacuum Insulation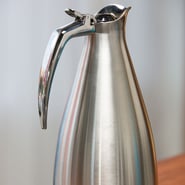 Vacuum insulation is the superior technology for thermal beverageware. A stainless steel vacuum insulated carafe can hold hot or cold temperatures for 4–6 hours, leaving no risk of dairy spoilage for an extended period of time. Try finding a carafe with a chamber style vacuum. This type of vacuum insulation tends to be dishwasher* safe due to its water-tight qualities.
*Note: it's still recommended that stainless steel be cleaned in a high-temp dishwasher that doesn't use abrasive cleaning chemicals.
Recommended vacuum insulated carafes:
3. Go with Controlled Pours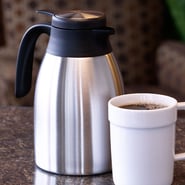 There's nothing worse than ruining a good cup of coffee by accidentally adding too much cream. A good creamer design will allow you to adjust the gasket to control the flow from the carafe. Set it wide open for trained staff, or just slightly open for use at self-serve condiment bars. Slowing down the flow will also help reduce spills and over-pours, saving you money in wasted cream. The reduced spillage will also keep your countertops cleaner for longer—bonus!
Recommended controlled pour carafes:
Don't forget the accessories!
Your condiment bar could display more than one type of dairy product. Make sure your customer can identify which is which! Options include rubber flavor bands and silicone ID socks. Or go with a permanent alternative and label your creamers with your condiment of choice and even add your own branding with etching or pad printing.